TEBEX FROM THE INSIDE
We are a learning company. Since 2010, we have fine-tuned our operations by using a development program called ProduktionsLyftet (the Production Hoist). The philosophy, methods, and tools stay with us, and make us a litte better day by day!
HISTORY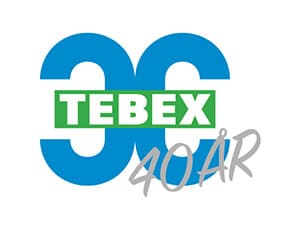 Tebex Cable Assemblies AB springs from a small consulting company, founded in 1955.
In those days, Tebex took on general engineering commissions, of which one was designing milking machinery for Alfa-Laval. The work included a broad array of cable assemblies. Another customer from the early days was Atlas-Copco, who also needed help with their cable assemblies.
In the early 1970s, the firm was converted into an independent subsidiary company. In 1976, the general consulting business was abandoned, the name was changed to Tebex Cable Assemblies, and today's General Manager, Mr. Raymond Fernström, entered upon his duties. Today, 40 people are working for the company.
CERTIFIERING
ISO 9001:2008
In 1997, we were ISO 9002 certified by SEMKO-DEKRA. Six years later the certification was upgraded to ISO 9001:2000, and today we are ISO 9001:2008.
PRODUKTIONSLYFTET
Ett positivt resultat på alla sätt.
Mellan 2010 och 2012 deltog vi i utvecklingsprogrammet Produktionslyftet för att ytterligare förbättra och effektivisera vårt produktionssystem.
Produktionslyftet är ett omfattande nationellt program som initierades av Teknikföretagen och IF Metall 2006. Programmet drivs i samarbete med åtta högskolor i Sverige. Syftet är att höja produktivitet, konkurrenskraft och utvecklingsförmåga i svensk industri och därigenom stärka förutsättningarna för lönsam produktion i Sverige.
Produktionslyftet tillämpar en standardiserad och väl utprovad process som har utvecklats sedan 2007 och ständigt förbättras. Processen bygger på principer som kopplar till Lean, men tar utgångspunkt i de utmaningar och ambitioner som är viktigast i det enskilda företaget.
Resultatet av utvecklingsarbetet är uteslutande positivt. Medarbetarnas engagemang, delaktighet och ständiga förbättringstänk är de viktigaste delarna för den fortsatta utvecklingen i Tebex som ett lärande företag. Vi har idag en förbättrad produktionsprocess som genererar tidsbesparing, effektivare uppföljning och bättre projektlönsamhet. Dessutom levererar vi idag högre kvalitet på våra produkter.